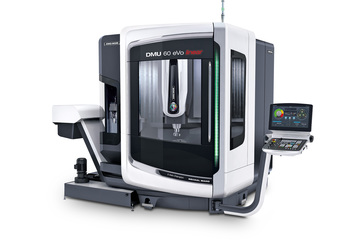 Mechanics
Item Number: A-Y519-D
Contract Partner: DMG MORI Academy GmbH
Machines: DMU 40/60/80/100 eVo/linearControl: Heidenhain iTNC 530Duration: 4.5 days ; Price: per participant
Mechanics DMU 40/60/80/100 eVo/linear -
Heidenhain
iTNC530
Duration: 4,5 days
Price: per participant
Goal / Target Group
The course participant gains the competence to perform service work within the scope of the described seminar contents.
Requirements
Experience in mechanical engineering / with machine controller
Sound knowledge of laptop and operating system
Training Content
Safety instruction
Design and function of the machine/assemblies
Geometric installation of the machine
Design of the linear guide
Geometric adjustment work
Measuring system replacement
Functioning / commissioning of the linear drive
Design of the two axis NC tilting rotary table
Gear tension adjustment
Replacement of the ROD B-axis / reference point setting
Maintenance and work introduction
Rotor replacement of the motor spindle (Easy Change)
Service work on the motor spindle
Kinematics
3D-QuickSet
Resetting maintenance notification with the InspectionKey
---

For less than 3 participants the DMG MORI Academy GmbH reserves the right to change the appointed day of the course.
Product Requests Mechanics
Thank you very much for your interest in our products. We will gladly send you a prompt and unbinding offer for this product.