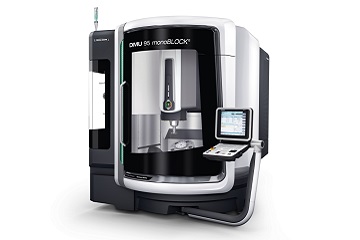 Electronics
Item Number: A-Y525-D
Contract Partner: DMG MORI Academy GmbH
Machines: DMU 65/85/105/125 mBControl: Heidenhain iTNC 530Duration: 4.5 days ; Price: per participant
Electronics DMU 65/85/105/125 mB - Heidenhain
iTNC530
Duration: 4,5 days
Price: per participant
Goal / Target Group
The course participant gains the competence to perform service work within the described seminar contents.
Requirements
Electronic education
Training Content
Safety instruction
Schematic design of the milling machine, machine overview and E-plan "ELCAD", Pnozmulti
Linear and rotation measurement systems
Adjustment of C0 and A0
Tool changer (chain magazine with Pragati tool changer)
Machine parameters for the tool changer. Recovery functions for abort and power failure
Diagnostics options of the controller, inputs, outputs, flags, oscillation function
Network settings
Changeover from direct to indirect measuring system for service purposes
Linear measuring system replacement
Deselection of the motor spindle for spindle replacement
Tool clamp feedback, leak monitoring, M19 setting
Data backup with TNCREMO_NT, Logbooks / Service file
---

For less than 3 participants the DMG MORI Academy GmbH reserves the right to change the the appointed day of the course.
Product Requests Electronics
Thank you very much for your interest in our products. We will gladly send you a prompt and unbinding offer for this product.