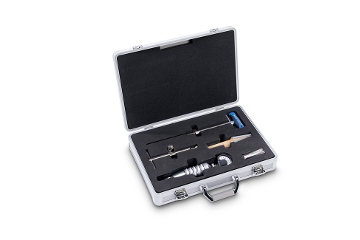 SPINDLE MAINTENANCE BOX
Item Number: Spindelwartungskoffer
Contract Partner: DMG MORI Spare Parts GmbH
SPINDLE MAINTENANCE BOX
Take preventive steps and service your own spindle: The useful spindle maintenance case contains everything you need for this task.
HIGHLIGHTS
Perfectly tailored to the relevant tool clamp system

Contents can be defined by the customer from the following components: Mechanical or digital variable-use drawbar force gauge, spindle runout gauge, dial gauge with magnetic support, depth gauge
CUSTOMER BENEFITS
Professional support with motor spindle maintenance

All components in a single system
Guaranteed machine availability and productivity
System tailored individually to your needs
AVAILABILITY
For clamping systems SK40, SK50,HSK63 and HSK100.
Product Requests SPINDLE MAINTENANCE BOX
Thank you very much for your interest in our products. We will gladly send you a prompt and unbinding offer for this product.