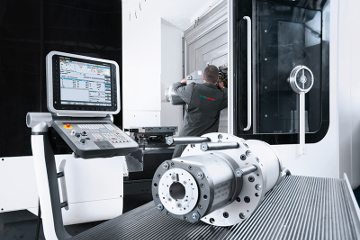 NEW AND REPLACEMENT SPINDLE SERVICE
Item Number: REPLACEMENT SPINDLE SERVICE
Contract Partner: DMG MORI Spare Parts GmbH
Information
Spare and wear parts:
For all spare and wear parts, which are declared as immediately available, the delivery time is as follows:

Germany: 1 - 3 working days after receipt of order
International orders: 5 - 10 working days after receipt of order, for articles declared as immediately available

Services:
For all services, which are declared as immediately available, the delivery time of service is as follows:

Germany: 1 - 2 weeks after receipt of order
International orders: 3 - 4 weeks after receipt of order, for articles declared as immediately available
For more details please click on our shipping page
NEW AND REPLACEMENT SPINDLE SERVICE
Water penetration, machine standstill, loss of production due to a defective motor spindle: Regular inspection or replacement of the rotary feed-through after 2,000 spindle hours reduces the risk of these scenarios occurring.
HIGHLIGHTS
More than 1,000 spindles available in warehouses around the world for immediate deployment
Replacement of all wear-and-tear parts with original parts (optionally new or replacement spindles)
High quality standard thanks to top quality replacement spindles
CUSTOMER BENEFITS
Minimum disruption of production through elimination of repair time
Spindle run-in and geometry testing, if required
AVAILABILITY
For all DMG MORI machines with driven spindles, main and counter spindles / headstock and gear spindles.
Product Requests NEW AND REPLACEMENT SPINDLE SERVICE
Thank you very much for your interest in our products. We will gladly send you a prompt and unbinding offer for this product.