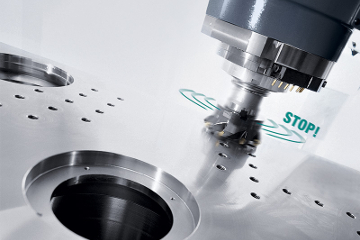 MPC MACHINE PROTECTION CONTROL
Item Number: MPC MACHINE PROTECTION CONTROL
Contract Partner: DMG MORI Spare Parts GmbH
Information
Spare and wear parts:
For all spare and wear parts, which are declared as immediately available, the delivery time is as follows:

Germany: 1 - 3 working days after receipt of order
International orders: 5 - 10 working days after receipt of order, for articles declared as immediately available

Services:
For all services, which are declared as immediately available, the delivery time of service is as follows:

Germany: 1 - 2 weeks after receipt of order
International orders: 3 - 4 weeks after receipt of order, for articles declared as immediately available
For more details please click on our shipping page
MPC (MACHINE PROTECTION CONTROL)
For new machines and as a retrofitting option, MPC ensures optimum machine and process control thanks to the additional and targeted use of hardware and software during processing.
HIGHLIGHTS
Monitoring: graphical process monitoring, imbalance detection, vibration monitoring, bearing diagnostics
Machine protection: quick shut-down < 10 milliseconds
Process control: tool and process-specific limits, feed stop
Data logger: Determination of causes during damage analysis
CUSTOMER BENEFITS
Quick shutdown in case of critical vibration conditions
Increase of spindle service life
AVAILABILITY
For mono- and duoBLOCK® machines as well as for the DMU and DMC model series as of 2010 with the HEIDENHAIN iTNC530, V600, V610, and SIEMENS 840D, SL 1.5 and SL 2.5 control units. Your local DMG MORI branch will be happy to check the options for easy retrofitting.
Product Requests MPC MACHINE PROTECTION CONTROL
Thank you very much for your interest in our products. We will gladly send you a prompt and unbinding offer for this product.