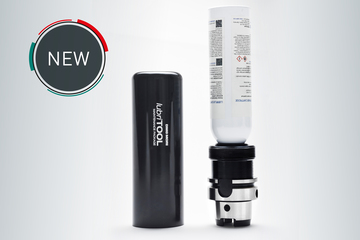 DMG MORI lubriTOOL
Item Number: lubriTOOL
Contract Partner: DMG MORI Spare Parts GmbH
DMG MORI lubriTOOL
In order to guarantee the impeccable functioning and longevity of machine-motorspindles, the tool clamping system has to be maintained and lubricated regularly. With the innovative lubriTOOL DMG MORI is offering an easy and effective device, which enables automated lubrication within seconds.
FUNCTIONS / TECHNICAL DETAILS
Lubritool can be set up into the spindle automatically, alternatively manually

Lubrication impulse is activated automatically

Optimal quantity of lubricant is sprayed to the right place

After the lubrication process, Lubritool can be set back to the tool magazine automatically or taken out manually
BENEFITS
Longer spindle lifetime

Optimal lubrication – always the ideal lubricant, at the right time, in the right quantity and place
No manual intervention needed – no failure to carry out maintenance
Approx. 100 lubrications with one cartridge (not included grease cartridge articel nr. 3615888)

Reduced maintenance times – 5 seconds rather than 5 minutes
AVAILABILITY
For all milling machines and machining centers with clamping systems HSK-63 and HSK-100
You can order the grease cartridge with the articel nr. 3615888
Product Requests DMG MORI lubriTOOL
Thank you very much for your interest in our products. We will gladly send you a prompt and unbinding offer for this product.