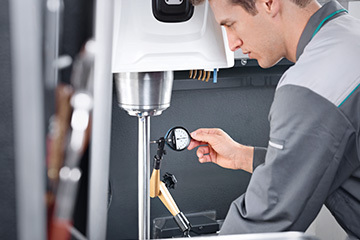 Maintenance Plus
Item Number: MaintenancePlus
Contract Partner: DMG MORI Spare Parts GmbH
Information
Spare and wear parts:
For all spare and wear parts, which are declared as immediately available, the delivery time is as follows:

Germany: 1 - 3 working days after receipt of order
International orders: 5 - 10 working days after receipt of order, for articles declared as immediately available

Services:
For all services, which are declared as immediately available, the delivery time of service is as follows:

Germany: 1 - 2 weeks after receipt of order
International orders: 3 - 4 weeks after receipt of order, for articles declared as immediately available
For more details please click on our shipping page
Maintenance Plus
Maintenance agreements to boost your productivity and reduce your operating costs. Our experts perform a full 2,000 hours maintenance on your machine as per the maintenance checklist.
Functions / technical details
Regular manufacturer maintenance as per the maintenance checklist
Reduced-price wear part package for your 2,000 hours maintenance
Confirmation of maintenance messages from MachineCheck
Customer benefits
High productivity thanks to reduction of unplanned downtime
Planned maintenance and operating costs
10% special discount on any services and spare parts resulting from the maintenance
Availability
Models /model series: NEF; CTX alpha 300/500; CTX beta 500/800; NLX 1500/2000/2500; DMU 50/70; DMU monoBLOCK®65/75/85/105; DMU eVo; DMC V; NHX; NVX 5000; ECOLINE, MILLTAP (all other machine types on request)
Your service info
Term: 3 years (new machines) or 2 years (existing machines) Service calls: as of 1 working day (depending on machine)
Product Requests Maintenance Plus
Thank you very much for your interest in our products. We will gladly send you a prompt and unbinding offer for this product.